Adkad Technologies customer support is above and beyond all others. We are 100% dedicated to helping you find answers to your questions, trouble shoot problems, recovering data, walking you through new tasks, and understanding how our software works.

WHAT YOU NEED TO KNOW BEFORE YOU CALL SUPPORT
Before calling, use the chart below to help you determine what we consider your issue type and whether it's covered under your support plan.
If you're not covered by a support plan you may elect to sign up for one or you may use the pay-per-incident or data recovery services.
Call us and ask your question. A live specialist will listen and either give you an answer right-away or let you know what you need to do next so that we may assist you best.
Support Issue
Gold
Silver
Bronze
Pay-Per
Incident
Software Installation Errors - cannot install software *
*
*
Registration Errors not covered in the software troubleshooter & online knowledgebase *
*
$30 Minimum
$90 Per Hour
Software Operational Questions *
$30 Minimum
$90 Per Hour
$30 Minimum
$90 Per Hour
Run-time and Software Errors *
$30 Minimum
$90 Per Hour
$30 Minimum
$90 Per Hour
All software issues and errors related to computer crashes & viruses - NOT including data recovery *
$30 Minimum
$90 Per Hour
$30 Minimum
$90 Per Hour
Software Training (90 minutes)
$135
$135
$135
DATA RECOVERY, repairing corrupted databases and data entry issues *
$30 Minimum
$90 Per Hour
$30 Minimum
$90 Per Hour
$30 Minimum
$90 Per Hour
$30 Minimum
$90 Per Hour
Networking software & issues related to hardware, peripherals and printers
$30 Minimum
$90 Per Hour
$30 Minimum
$90 Per Hour
$30 Minimum
$90 Per Hour
$30 Minimum
$90 Per Hour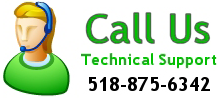 Call our experienced support experts during our business hours for help. Depending on the nature of the call and your support plan a fee may apply. For more details see the explanations below; and, if you're still not sure, call us and we'll let you know.

Sign up for our Gold Support Plan and get one-on-one phone training* plus 1 year* of phone & email support.

Get 1 year* of phone & email support when you purchase the Silver Support Plan.

By default, you're always covered by the Bronze Support. However, this support only covers run-time and software installation errors, as well as, just the registration errors that aren't covered under the free self-help.

Use Pay-Per-Incident support if you don't have or want a support plan and you need one-time support for a single issue or question.

Have us help you resolve dilemmas with your data such as data recovery, corrupted data, or data entry issues.

Get one-on-one training with a software specialist over the phone at a time of your choosing.
An operational question is defined as "how to" operate the software to accomplish a task. Some examples would be: "How do I get my logo on the invoices?", "How does the Estimator work?", or "How do I charge for a service?" If you have the Silver or Gold support plan, call us and we would be happy to walk you through how to operate our software. If you have the Bronze support plan, consider signing up for a premium plan today or use our Pay-Per-Incident support for one-time assistance.
Error messages can come in many different varieties.
RUN-TIME ERRORS:
Run-time errors can indicate a very serious problem with your data or software and are not always able to be resolved; but rest-assured, we will leave no stone unturned when trying to help you with these errors. Run-time errors, unless caused by unsuccessful data recovery, are covered by the Silver and Gold support plans. Most run-time errors are also covered by the free Bronze support. The best way to know for sure is to call us.
PROGRAM ERRORS:
Some error messages are by design and indicate improper use or limitations of the software. These errors are covered by the Silver and Gold plans but rarely the Bronze, unless it's a known software issue or it is determined to be a bug in the software.
SOFTWARE INSTALLATION ERRORS:
Errors that stop our software from being properly installed are always covered for free unless the issue involves a network installation. Questions involving multiple computer installations or how to install the software after getting a new computer, or recovering from a virus or crash are only covered by the Silver and Gold support plans. Registration errors do not fall under this category either and are usually caused by not following the step-by-step installation instructions packaged with your software.
DATA RECOVERY ERRORS:
Data recovery is considered a separate issue than installation and is not covered under any plan, however, we can provide assistance at the Data Recovery rates. For more information see the Data Recovery topic below.
REGISTRATION ERRORS: Refer to the Registration Issues topic below.
Data Recovery is not covered under any plan, including the Silver, Gold, Bronze and Pay-Per-Incident support.
If you've been making regular backups of your data through our software you should never need the Data Recovery service. You would simply use the Restore feature of our software to load your data back into the program.
Otherwise, if all else fails, or you simply just want us to walk you through it, we can certainly help. We have a 99% success rate at getting your data back. We want to help! Don't sweat it, call our Technical Support line for this service.
Data Recovery rates also apply to repairing corrupted databases and researching data entry issues.
Our software products contain a Registration Error troubleshooter that operates like a question and answer to get to the root of the issue causing any Registration Error. At the end of the troubleshooter is the solution needed to fix the error.
Plus, for additional help, the most common Registration Errors solutions are also posted in articles on our Knowledgebase. Usually these errors are caused from improper installation of the software so please read the step-by-step installation instructions carefully before installing your software product on multiple computers or a new computer. Installing the software on a network can cause registration errors; we do not support networking.
We understand Registration Errors can be frustrating, which is why we have provided so many different avenues for self-help. If the self-help doesn't solve your issue, call us. However, depending on the cause of the error and your support plan there may be a fee for the assistance. Please note that some registration errors which involve issuing a new registration number may have a small fee associated with processing and delivering the new number to you.
* See individual Plan Details for more comprehensive information
* See individual Plan Details for more comprehensive information
Easy-to-Use Business Software Programs that Make Running your Lawn or Landscape Service Industry Business a Breeze!
Landscaping management software doesn't get any easier than this! Software conveniently tailored to lawn care, landscaping and snow plowing businesses.