Customize the look of the billing for your landscaping business by changing the colors of your invoices using our landscaper software GroundsKeeper Pro. Depending on your customers preferences, the invoices will be emailed and/or printed based on how each client is setup.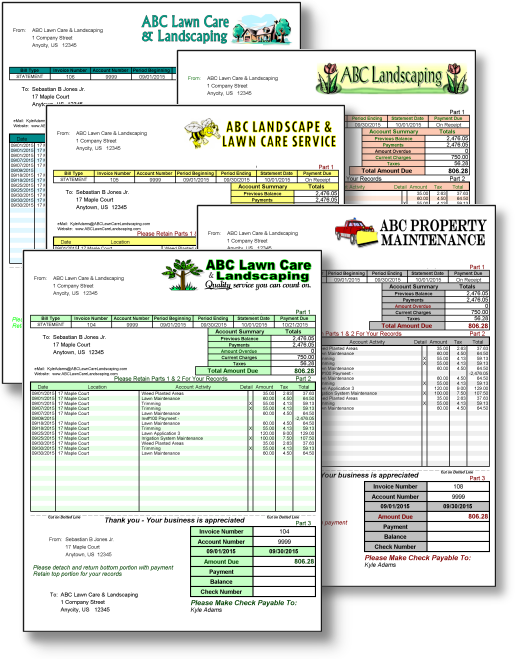 With our specialized landscaper software for business management, the color and logo options for your billing are limitless.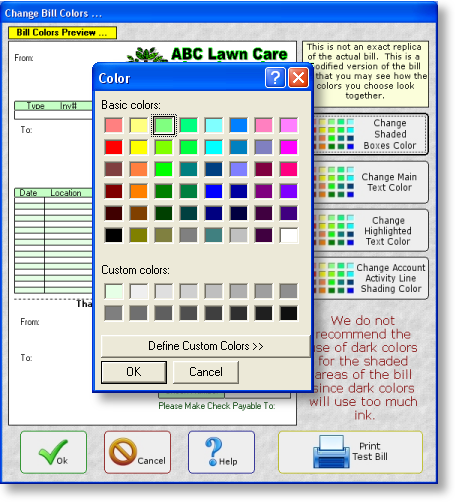 Landscaper software makes it simple to change the colors on your invoices making your businesses invoices unique & professional.
If you are a landscaper and have a small business you know how quickly the management issues can escalate and run away from you. Keeping track of every single detail of the business expenditures, invoices, routes, schedules, contracts, and everything else is nearly impossible. At least, it is impossible without the right business software program. Specialized software for the landscaper and lawn businesses can make owning a small business simple again.
For any small landscape and lawn care business owner, properly managing the business is a difficult and time consuming job. Sending invoices, keeping track of unpaid bills, accounting for income gained and lost, and keeping information organized can be really challenging.
With software designed specifically for the landscaper, as opposed to generic small business programs, setting up your business finances is simple and fast. You can use the GroundsKeeper Pro landscaper software to automatically email an invoice, print or email an estimate, charge a fuel surcharge fee, or any other number of things that will make your landscaping business more efficient.
GroundsKeeper Pro landscaper and lawn professional management software is a tried and reliable product that can help any small landscape lawn business be more profitable. By decreasing the time it takes manage the digital paperwork, you can free up more time to devote to your business, your family, or helping in your community. Often the owners of small businesses become so engrossed with trying to make their business pay the bills that they might forgot other equally important things.
Never Lose an Invoice or Bill Again: Going digital may be a frightening step for some small landscaper business owners. These people would be shocked at how much time they waste by filing and sorting important documents. With a computerized filing system you never have to worry about losing an important document. Even if your business computer crashes or is damaged, you will have a copy of all your important business documents because this landscaper business management software can create backup files onto your hard drive or flash-drive for safe keeping.
With this landscaper software for business management you never have to wonder if a customer / client owes money because the information will be right there in the GroundsKeeper Pro software computer program. These are just some of the ways a specialized landscaper software can help your small green industry business.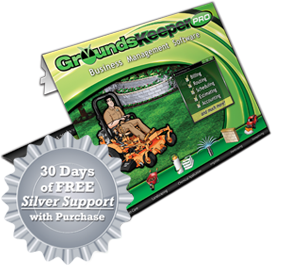 Easy-to-Use Business Software Programs that Make Running your Lawn or Landscape Service Industry Business a Breeze!
Landscaping management software doesn't get any easier than this! Software conveniently tailored to lawn care, landscaping and snow plowing businesses.