GroundsKeeper Pro has the ability to export the data from the tables in your company database into CSV (Comma Separated Values) files.
After exporting the data you can then open it with Microsoft Excel or any other software that can open or import data from a CSV file.  This is very useful because you can use the features in other software products to do the things that are not available in GroundsKeeper Pro.  For example, once the data is opened in Microsoft Excel you can manipulate it and/or create custom reports such as the yearly chemical application report to send to the DEC in the format your state requires.
Step 1: Start GroundsKeeper Pro and click on the 'Import & Export' button from the Main screen.
Step 2: Select the data to export and click the associated lists button.  When processing is complete each selected item will have created a new CSV file that is placed wherever you specified on your computer.  For example if you selected 3 items then 3 different CSV files are created.  The name of the file is the selected item with the date and time – For example:  'CustomerPayments_Feb05_1153AM.csv'. NOTE: The CSV file GroundsKeeper Pro creates is a copy (a snapshot) of the data at that point in time.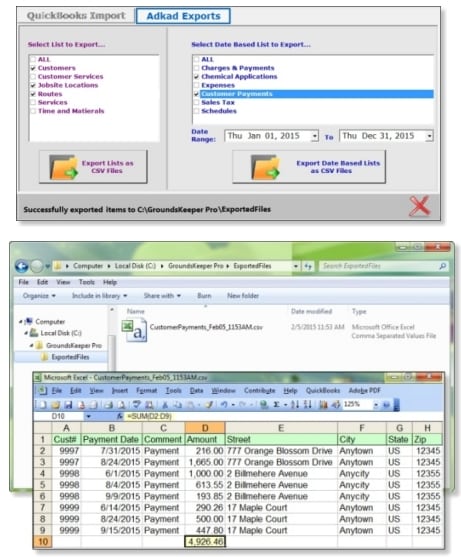 Step 3: After the CSV files are created GroundsKeeper Pro's job is done.  Close GroundsKeeper Pro and start the other software product you wish to utilize.  Use that product to open/import/load the CSV file and then use it to manipulate the data, create custom reports, etc.  Obviously any changes you make to the data while in that other software product will not be reflected in GroundsKeeper Pro since you are only working with a copy of the data.
The data that can be exported:
Customers (all)
Customer Services (all)
Jobsite Locations (all)
Routes (all)
Services (all)
Time & Materials (all)
Charges & Payments (date range)
Chemical Applications (date range)
Expenses (date range)
Customer Payments (date range)
Sales Tax (date range)
Schedules (date range)
In addition, GroundsKeeper Pro also has an export to CSV utility in the following screens: Customer List, Scheduling & Routing.