HOW TO WORK WITH SERVICES THAT ARE PART OF A CONTRACT WITH PERIODIC PAYMENTS
Issue:
A service, such as Lawn Maintenance, is performed as needed or is scheduled regularly, but the customer has a contract in which they pay on a monthly basis. How do you show on the invoice and schedules when the service is performed and charge them for the monthly contract charge correctly.
Solution:
You will need to add two(2) services for each customer this scenario applies to. Service 1 will be Lawn Maintenance with a charge of $0 and Service 2 will be Monthly Contract Charge with the charge being the yearly contract price divided by 12. (see Image 1)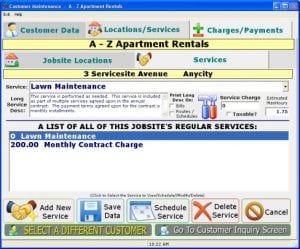 If you need to schedule the Lawn Maintenance service you would schedule it in the Customer Maintenance|Schedule Service screen, as you would any other service (see Image 2).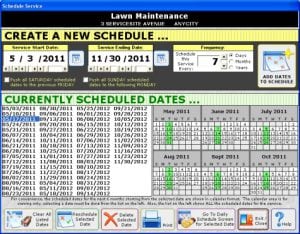 Afterwards, when you go into the Scheduling screen it will appear on the days it was scheduled for (see Image 3).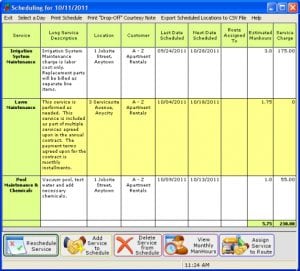 If you need to add the Lawn Maintenance service to a Route, you would add it as you would any other service (see Image 4).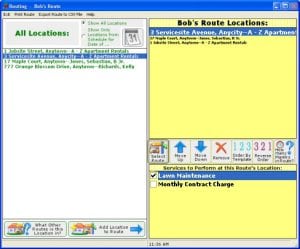 To charge all the customers who have the Monthly Contract Charge all at once, you would create a Route named Monthly Contract Charges (see Image 5) and then use the Wizard in the Enter Chargesscreen to automatically charge all the customers within that Route on a monthly basis (see Image 6). This Route would be used for a way to group the monthly contract customers together so that they may be charged all at once, the route would not be used for anything else.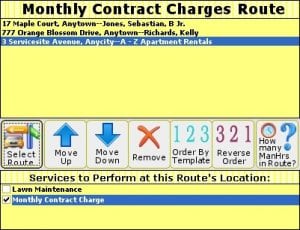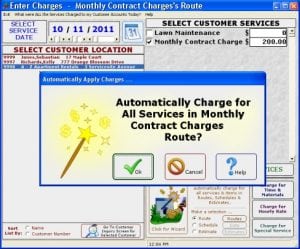 The customers Invoice would look like what is shown in Image 7.